Life is often referred to as a journey, a roller coaster, or a long road. And when I stop and think about it, these metaphors have a lot in common with toeing the line and racing.
Just as things change quickly and often unexpectedly in life, they also do in racing. From the environment, whether it be from your surroundings and race conditions, to your own thoughts and mental state, Change is inventible and almost ALWAYS a guarantee.
When change occurs, it is up to us and ONLY us to determine the outcome and try and make the unpredictable a little more predictable and manageable.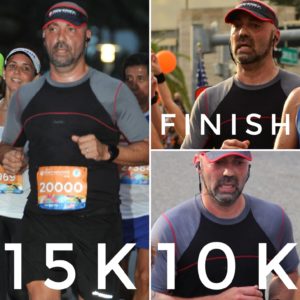 This past weekend as I have done for the last 4 out of 6 years, I used the Miami Marathon as my season opener in order to set a benchmark and baseline for my upcoming season. I went into Miami with close to 6 months of a solid base training and felt beyond confident in executing my race and plan.
Unfortunately, I got my ass handed to me in more ways than one! Needless to say, this was by far the worst race that I have ever had, and the first one in which I had to walk and fight to put one foot in front of the other from mile 6 to the finish.
Every aid station I passed, I found myself running or walking towards it without even thinking about it. Fortunately for me, every single one I went too, was occupied by someone being taken care of, so I told myself I will go to the next one, and so it went all the way to the finish.
I started to look for the reason and the justification behind the "Why?" Why didn't I achieve what I set out to do? Why didn't I execute my plan? Why? Why? Why? Looking for the excuse…
The reality is that Miami was humbling beyond words and disappointing beyond measure, and the lesson here may not be so much about racing in and of itself. But the opportunity to learn and grow from this experience by embracing the unknown and trying to make the unpredictable a little more predictable and manageable.