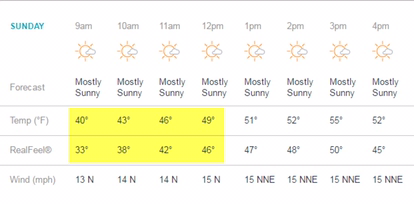 The chilly, wet 15th running of the Miami Marathon…those were the headlines the day after the race. Yes, in sunny South Florida were the average temperatures in Miami is a blustery 76.4°F it was a bone chilling 40°F race morning with a steady 12-15 mph wind and constant rain. Sounds like fun doesn't it?
Well let me tell you, waking up race morning at 5 o'clock looking out the window from our hotel room watching the palm trees leaning to the side as the wind howled through the city streets pelting our window with rain made it very difficult not to crawl back into bed and chalk this one up to poor race conditions and weather. A solid justification as to why one would not toe the line.
However as I looked out the window, I was quickly reminded how during the first hour of your day, your morning routine and choices are critical. They impact your mindset, productivity and influence the rest of your day. This was when I opted to close the blinds and soldier on with my routine. Of which I was excited for since this was the first time that I ever had any sort of a game plan and actionable solutions that I needed to implement and execute prior to toeing the line.
5:45am
I am out the door on the elevator and on my way down to H Corral which was located 400-500 yards from the start line but 40 feet as the crow fly's. H Corral was a great vantage point to see the bulk of the 20k plus individuals get ready to run their own race as they prepared and walked towards the start line. It's always somewhat surreal to me be a part of that kaleidoscope and 1 of those individuals that made up the 20k. It quickly reminds you how we might all be running the same race and course, but how we all have our own individual stories and personal reasons as to why we are running this race and do the things that we do.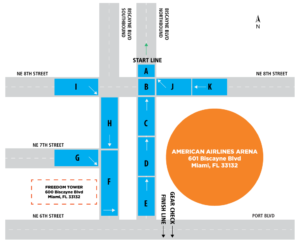 My why and personal reason was to set a baseline for the start of my 2017 season and to create a measurable benchmark from which to work from and build on as I move forward. My goal going into this race was not so much to race it, but to approach it differently than I have ever raced anything before. Remember that game plan and actionable solutions that I mentioned earlier? Well – that was my story, that was my reason why.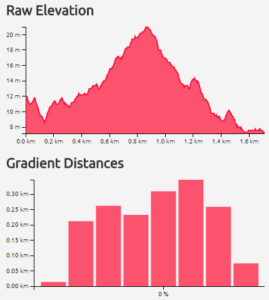 6:00am
Finally, I get to the start and the rain is really coming down at this point now. The wind is still blowing and I am still cold. The horn goes off and H Corral is underway and a quarter mile into it we are met with a right hand turn onto the MacArthuer Causeway which caused a slight bottleneck to say the least. Picture 20k runners all fighting for some footing as they fight their way onto the on ramp of a single lane highway which is the start of the bridge or a hill as they call them here in FL causing even more of a bottle neck. In my opinion the MacArthur Causeway is not a very welcoming site to the start of a marathon. However in this case I embraced it with open arms as it gave me the opportunity to really warm up and find my rhythm right off the bat, not to mention that this on ramp is the start of the bridge with a 42 foot elevation gain from sea level.
(Be sure to click/tap on the 2D & 3D on the profile below)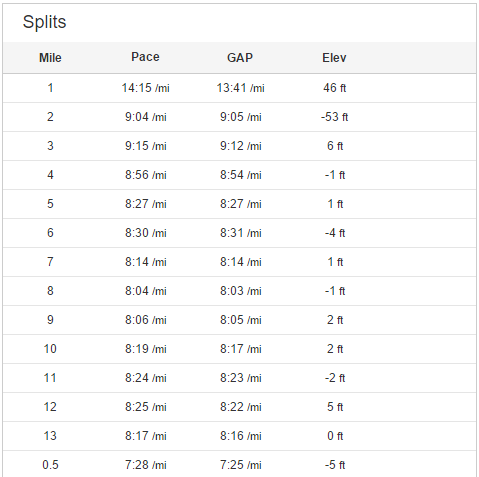 This was not my fastest 1/2 Marathon, but definitely it was my best 1/2 Marathon and I could not be more pleased with my results. I went into this 1/2 Marathon as my season opener to set a baseline with measurable results. I went in with a very clear directive and plan that was to slowly build on the previous mile.
Mile 1 was pretty indicative of the bottle neck and the MacArthur Causeway.
Mile 2 I was trying to establish my pace and find my legs.
Mile 3  Found my legs and fully warmed up by this point.
Mile 4 Settling into a rhythm that was comfortable and smooth.
Mile 5 Comfortable with the pace and feeling pretty good.
Mile 6 Was a bit too comfortable with the pace. So much so that I almost forgot to step it up a notch and stick to my plan.
Mile 7 Found myself having to reset both physically and mentally to find my pace again to get back on track.
Mile 8 Still found me struggling to get back on pace and stick to my plan. I could not find my rhythm or footing.
Mile 9 Had me mentally defeated as I knew at this point that the previous two miles were off from where I needed to be and wanted to be.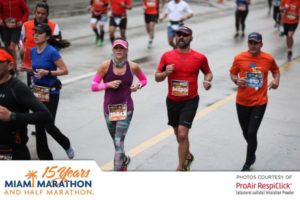 Anyone can physically accomplish this as was evident with the 20k plus runners around me at their various paces, but we're all faced with the same mental game that will reach out from the depths of your soul and allow self doubt to creep in.  That doubt started to creep in for me at mile 7 when my toes went numb due to constant wetness and cold as well as being faced with a headwind and the incessant rain. It took me 2 miles to suppress that and fall back on the decision I made earlier this morning and making that conscious decision not to allow my temporary discomfort to dictate my outcome.
Mile 10 This was my turning point in realizing that my discomfort was a mental block looking for a way to deviate from my original game plan and find the path of least resistance. Seeing the mile marker mentally triggered a sense of you're almost done. It was time to reset, refocus and soldier on! After all there were only three miles left.
Mile 11 I found my legs and rhythm again. However it was at the expense of miles 7-9 of which I was all over the place. Nonetheless settled in and recalculated. I was feeling comfortable, relaxed and was moving forward.
Mile 12 Had me lost in my own head. I was going over the entire race and questioning what I had done and what if I had done this or that. What could I have done differently especially on miles 7-9 to really stick to my plan and execute my perfect race as far as meeting all of my benchmarks.
Mile 13.1 I realized that I was still in my head and kicked it into gear. I was almost to the end. I put my head down and focused on what I was supposed to be doing. I focused on executing my plan to the very end and not on what was but what is. What was in front of me and not what was behind me.  It was at this point in the entire race when I realized. You dumb Ass… that is racing!
I'd like to personally thank my wife and Miss Daisy for their support and Maverick Multisport for believing in this age-grouper and giving me the opportunity to represent and race for them in 2017.
Thank you to Infinit Nutrition a true game changer in sports nutrition and being my go-to all in one. You can read my full review and experience here.
Thank you to Altra Running and their One 2.5 that comfortably carried me from the start to the finish line.
Thank you Polar for keeping me on task and point with your M200 GPS Running Watch